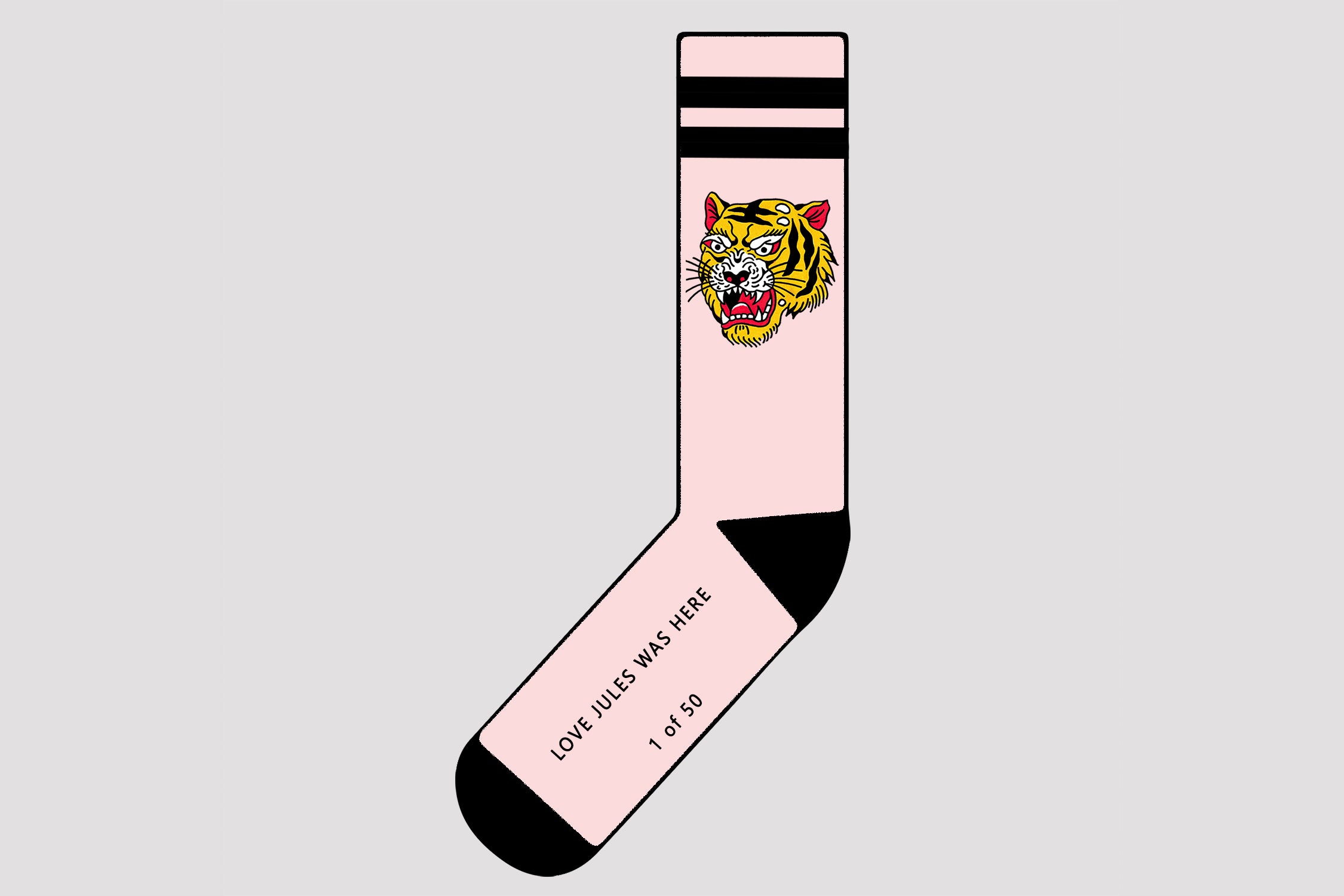 This product listing is viewable to NFTH holders only. 
Per a recent email poll, it was a resounding YES to a limited edition (for NFTH holders only) embroidered Tiger Head Sock in an NFTH PINK Colorway. 
You're all getting a pair in your NFTH Swag Bag (unless you specifically requested another colorway), however... a few of you reached asking if you could purchase additional pairs. I'm happy to put in a bulk order for you (and only you) guys, and this is probably the easiest way to process additional pairs. 
Again, you only need to purchase if you'd like additional pairs! If you're happy with one, your work here is done. 
NOTE: This is a PRESALE, that will run from 9 am (PST) Monday July 17th through midnight Sunday July 23rd. We'll place our final sock purchase order the next day, based on however many pairs you nab. Our sock guys tell us they'll be able to have every last pair 'crafted and shipped by August 31, 2023.
FINAL SOCK SPECS: 
Embroidered FULL-COLOR TIGER HEAD (image designed by our good friend Piew Choquette) will be present on the outside of each sock shaft. This is the first time, in their long history, our production partners will be incorporating an embroidered patch into a sock design. This was a big time favor to us, and we're forever grateful. 
COLORWAY: NFTH PINK with BLACK.
The side of each foot will read a woven "LOVE JULES WAS HERE" (in black), because you're damn right we were!
SIZING: Men's Standard - 9 US Men's - 13 US Men's/ Women's Standard - 6 US Women's - 10 US Women's
Pima cotton blend. Athletic rib crew. Padded underfoot. 
Designed up here in East Vancouver, BC, Canada and 'crafted just down the coast, in Southern California, USA. Forever and always.