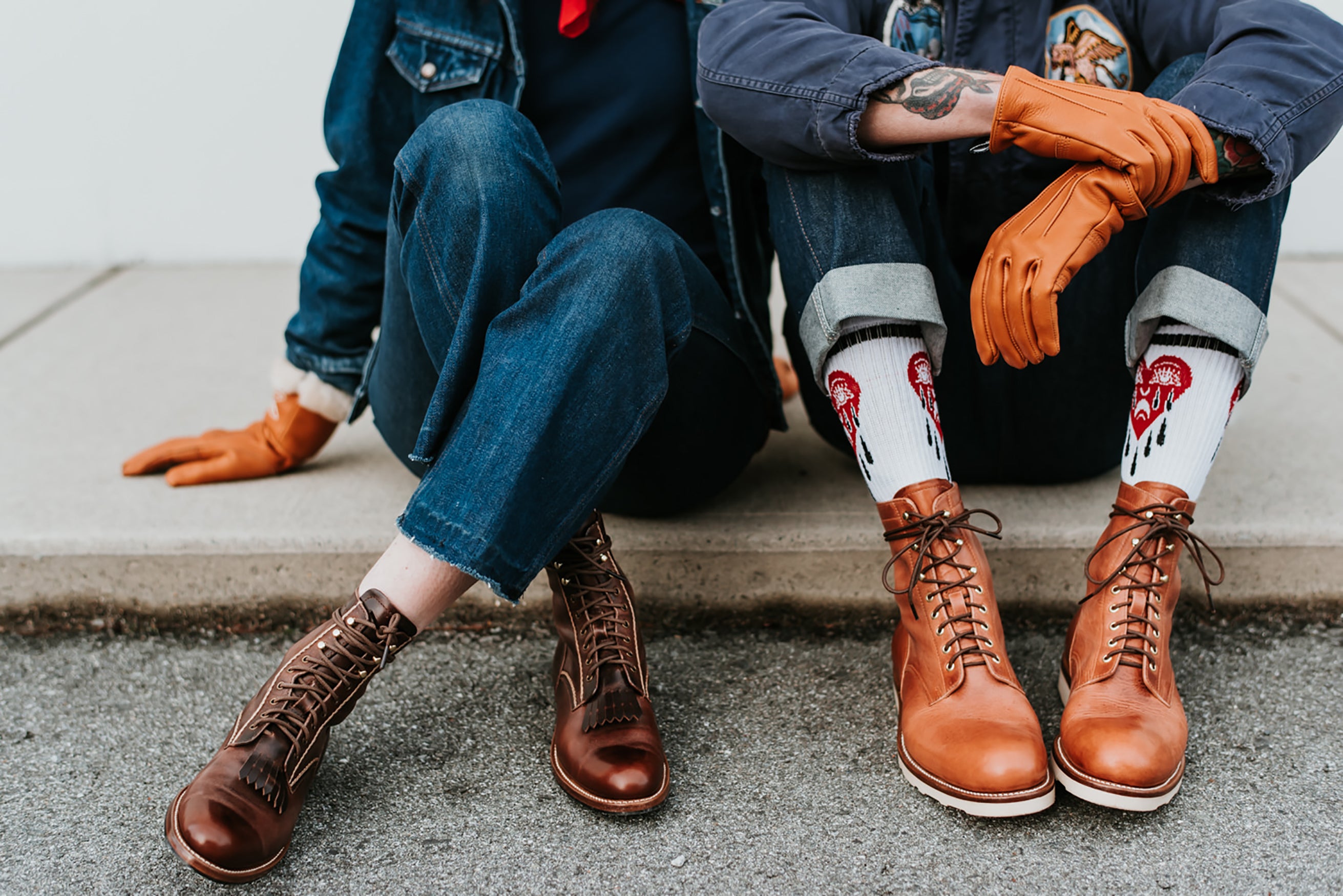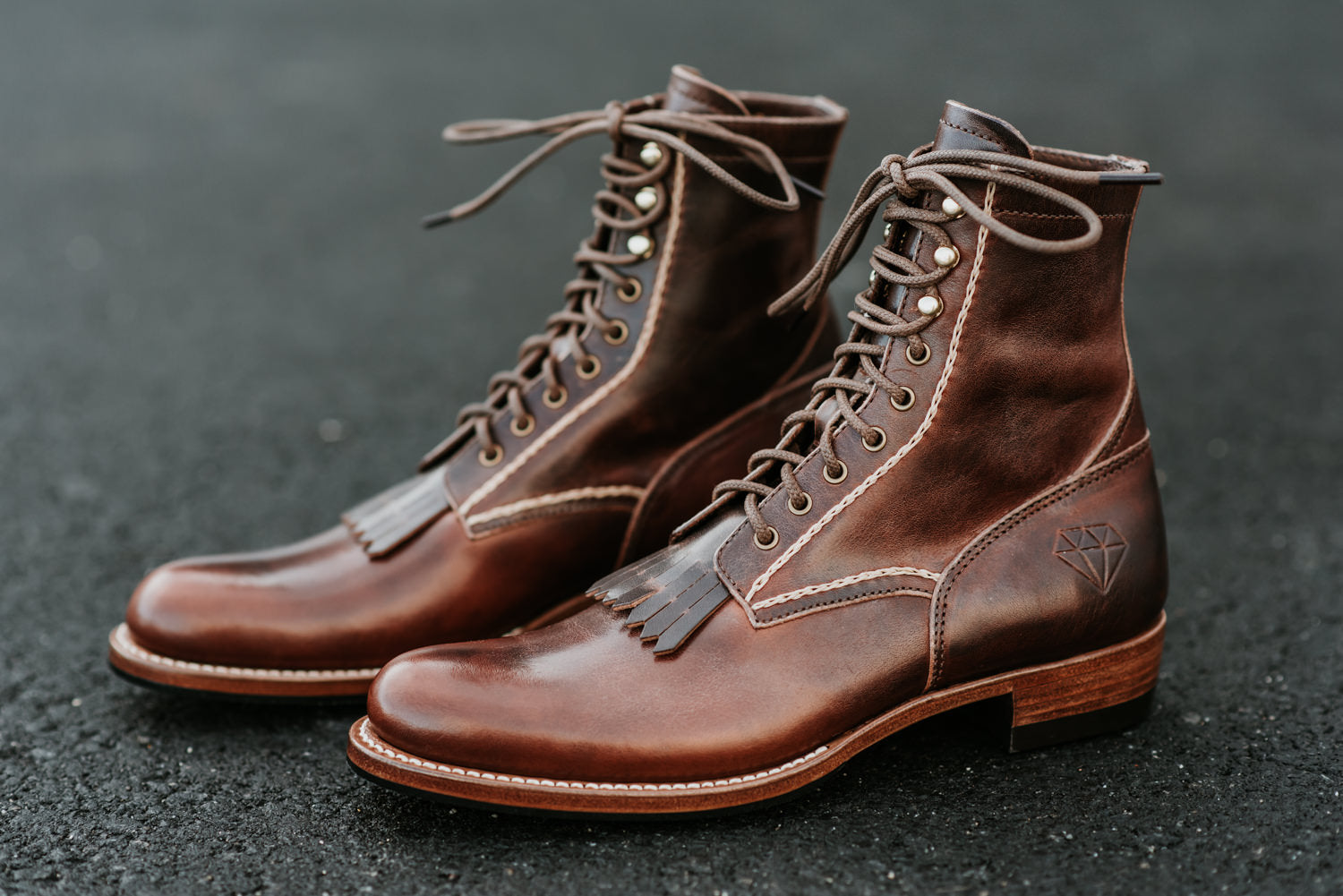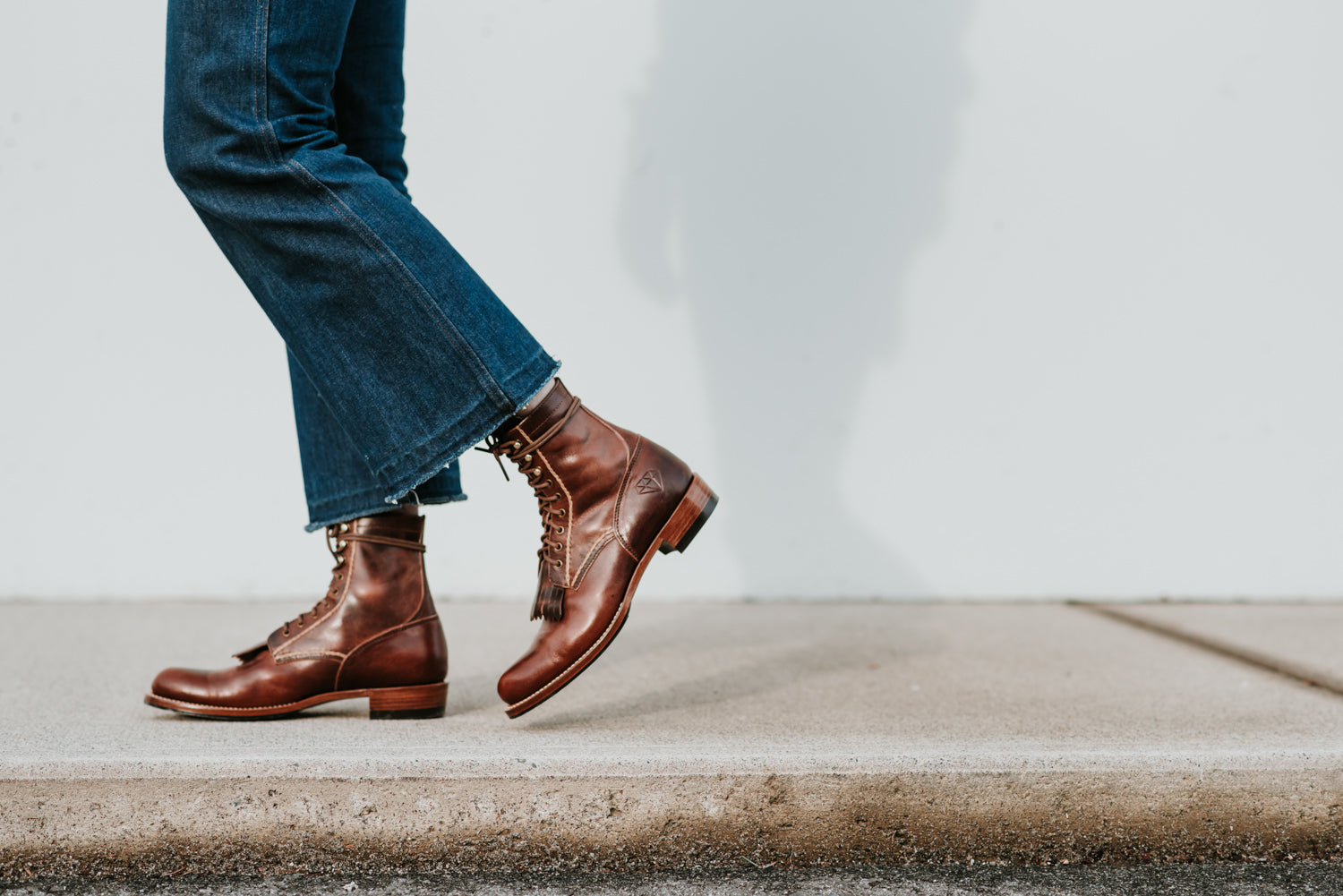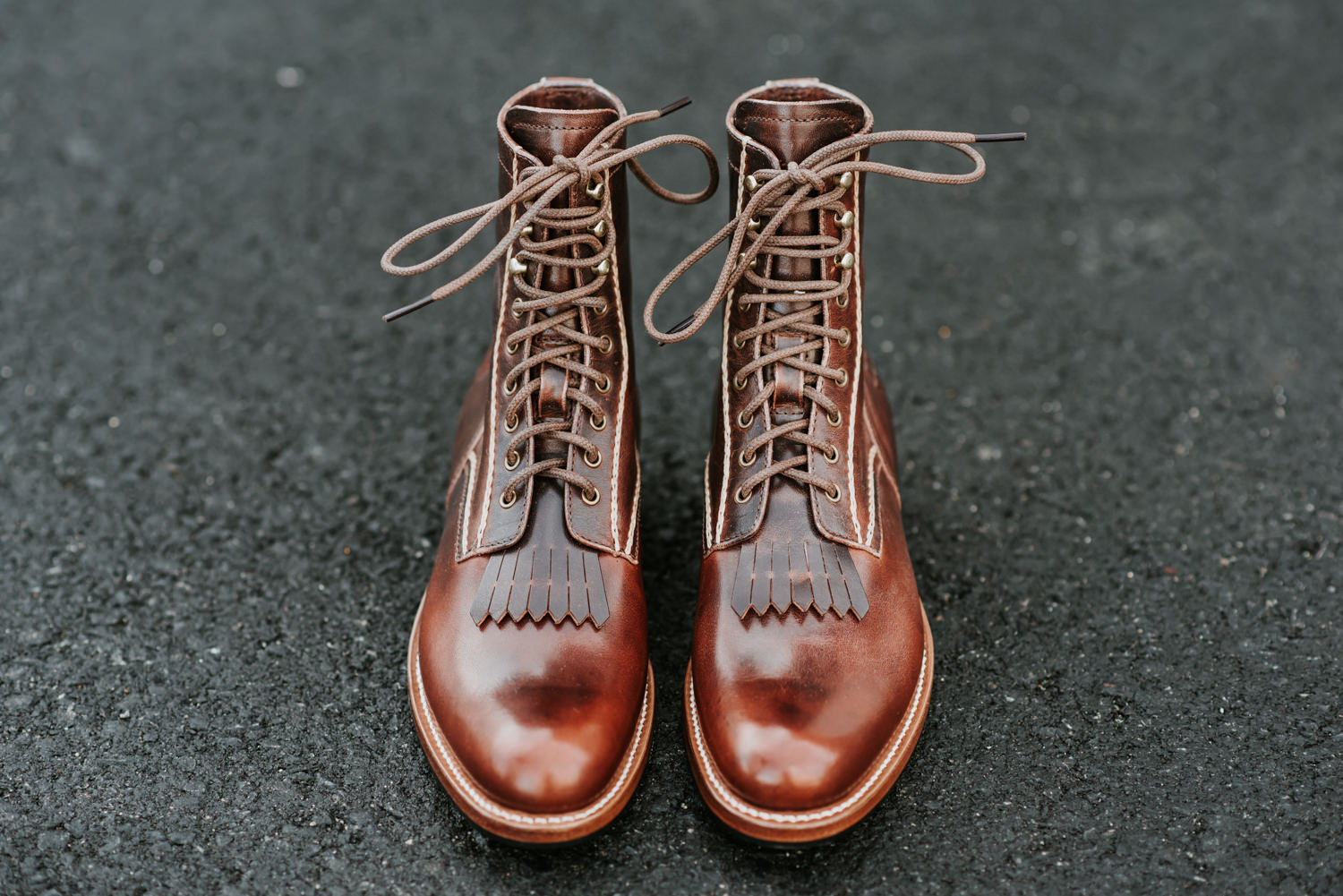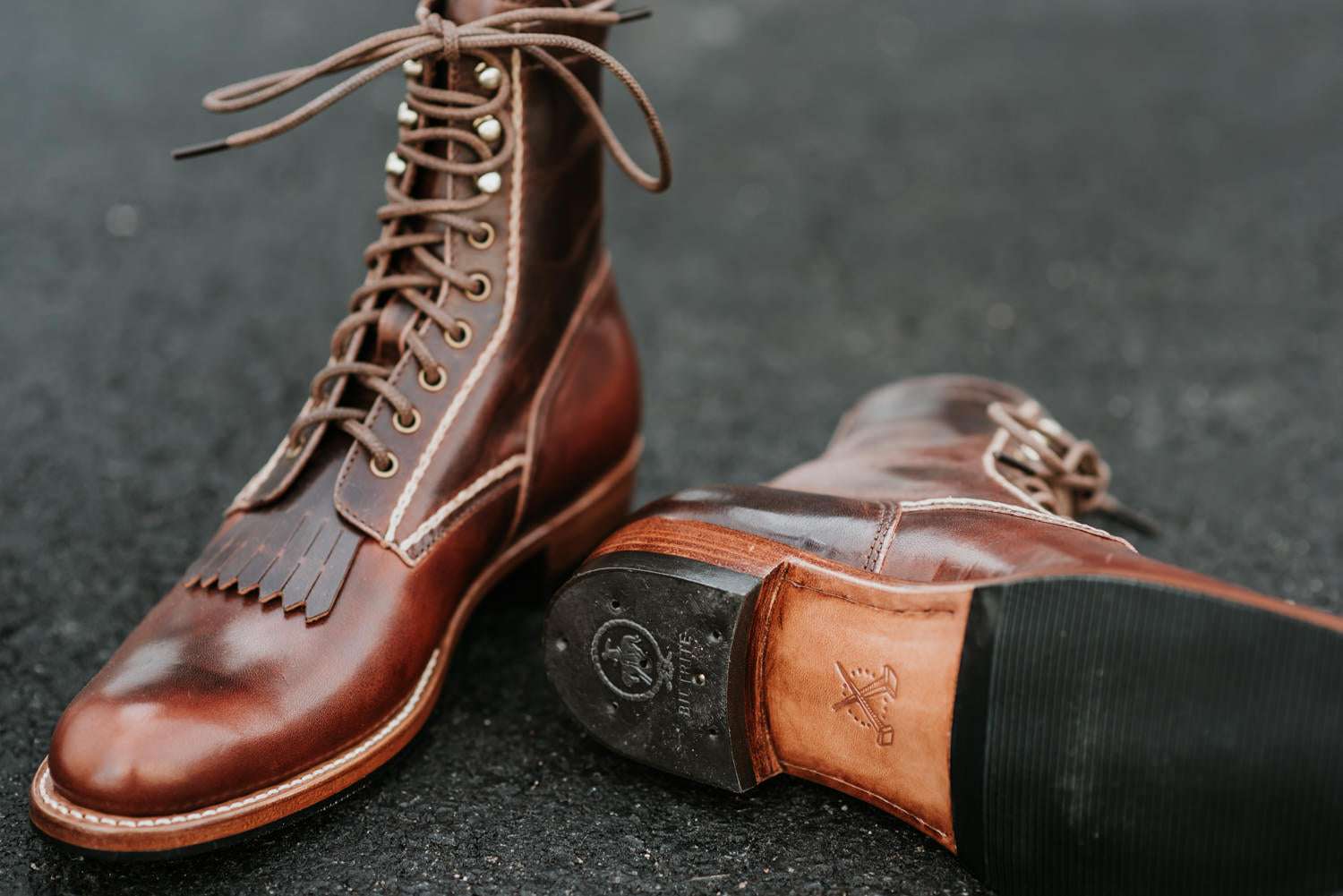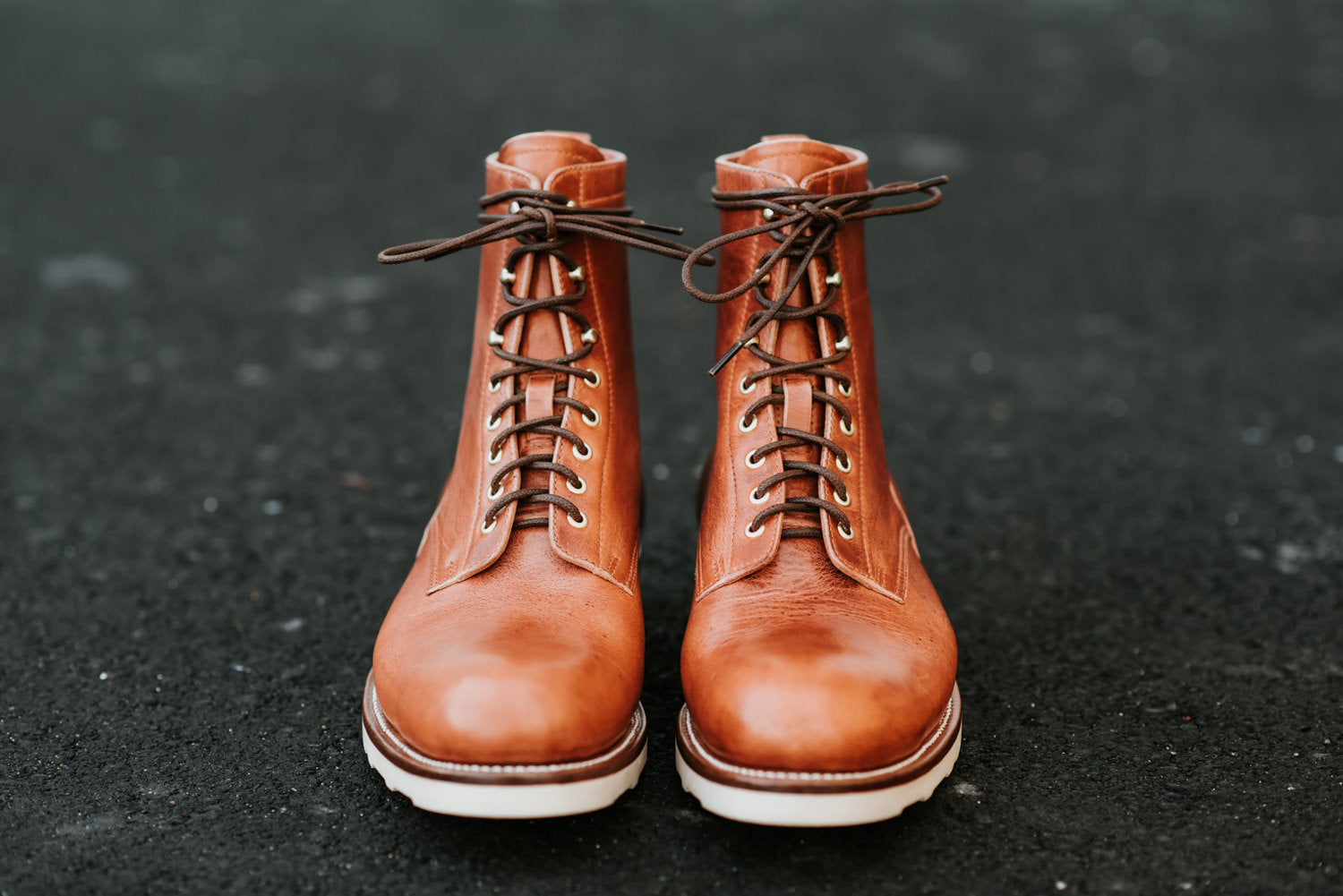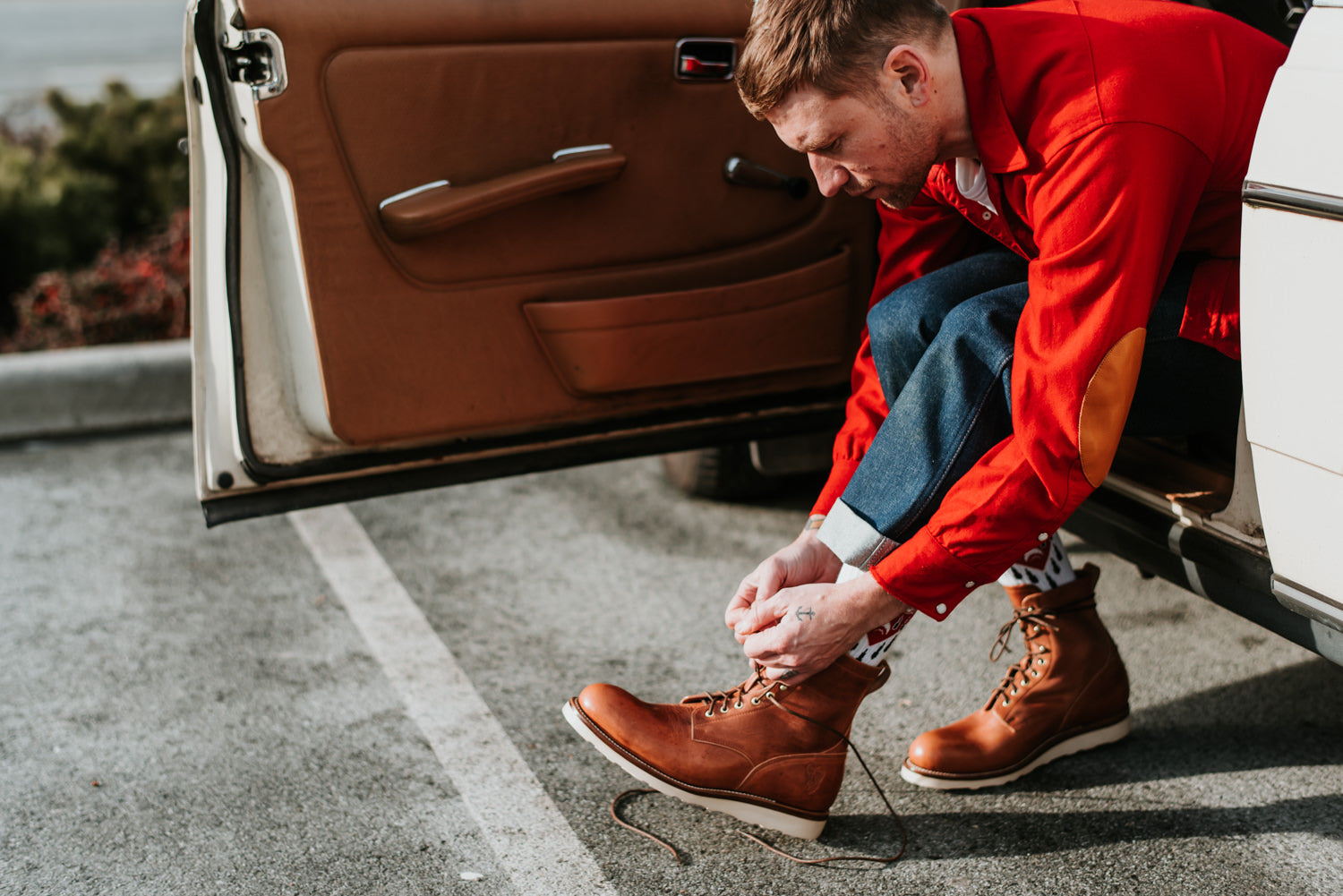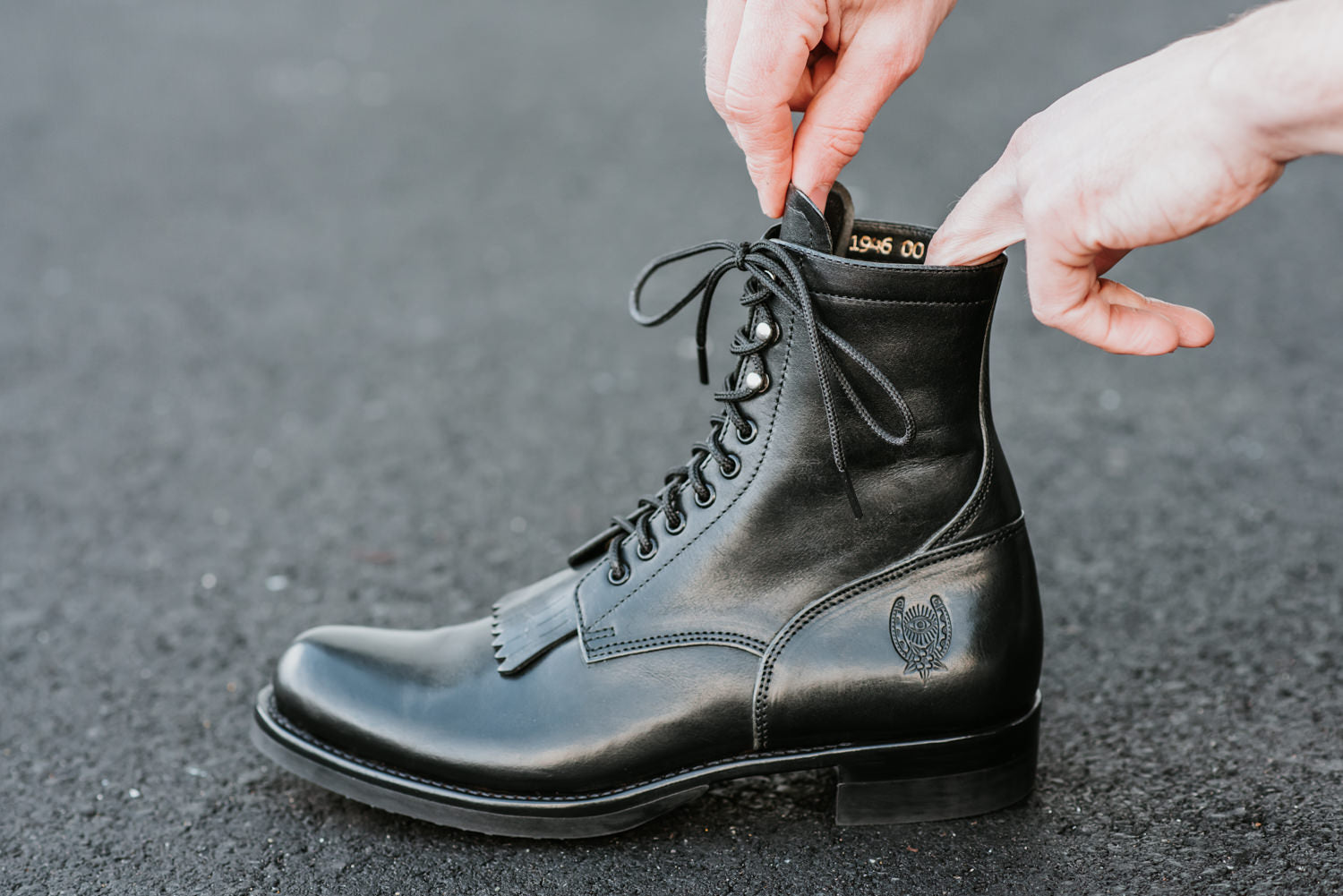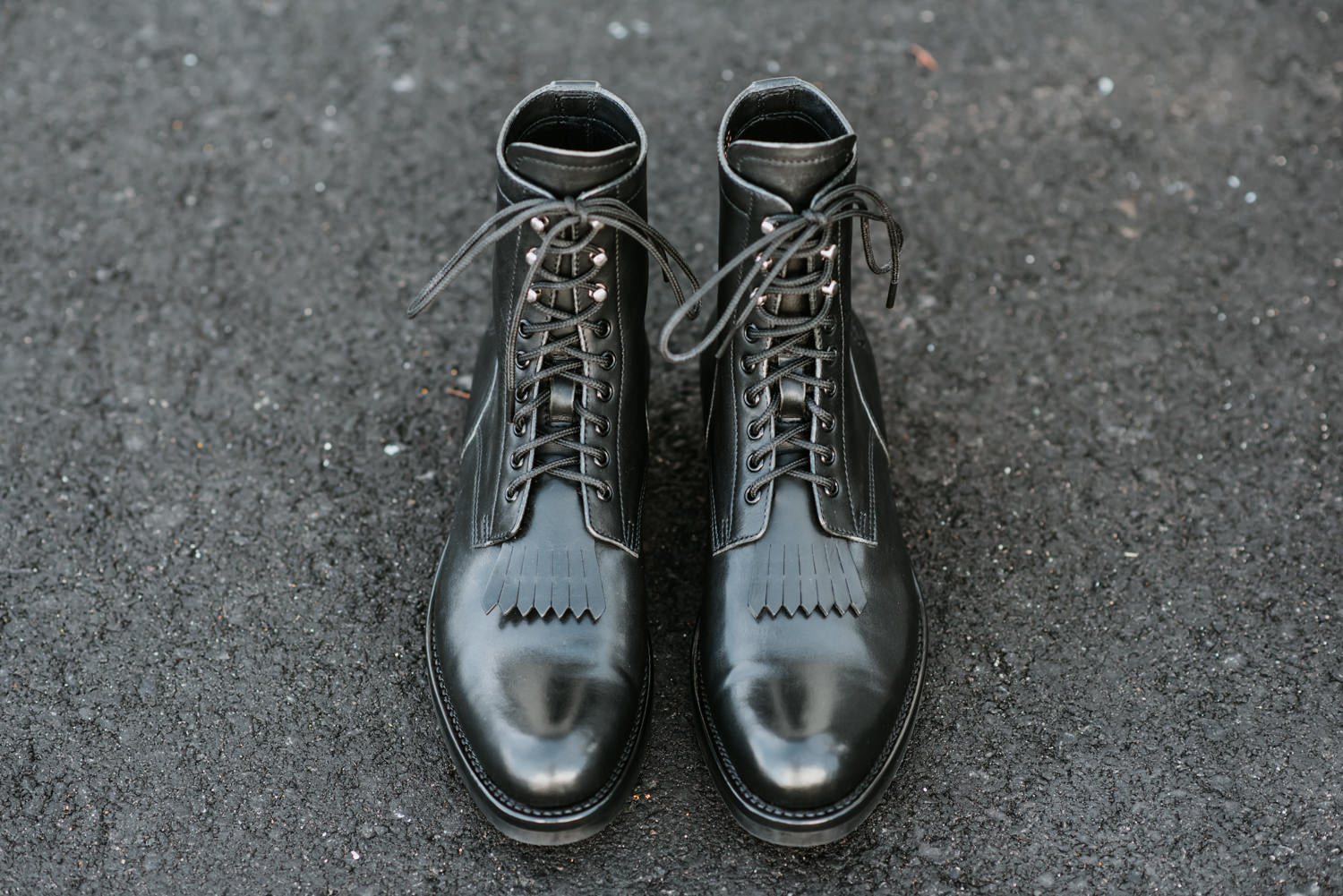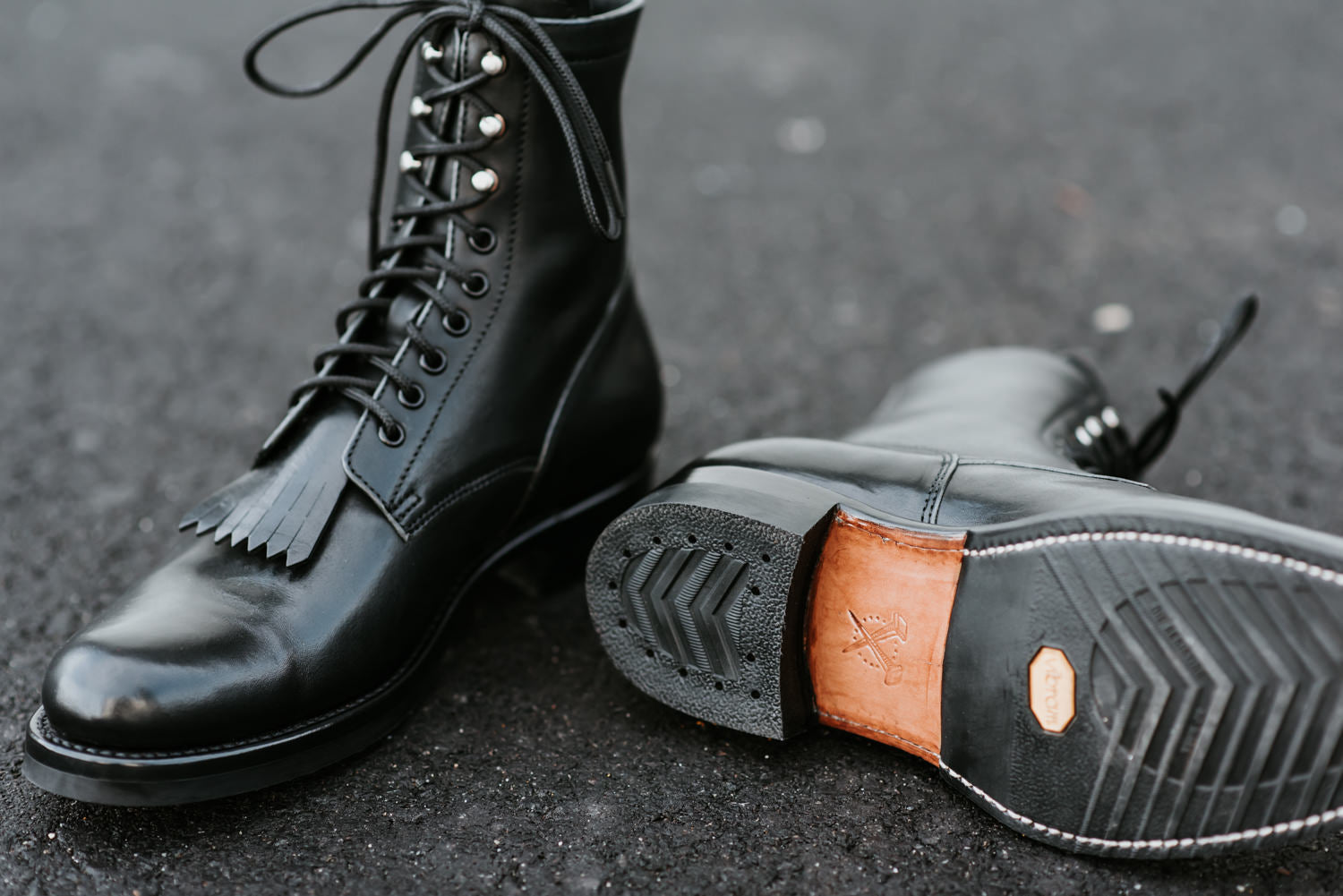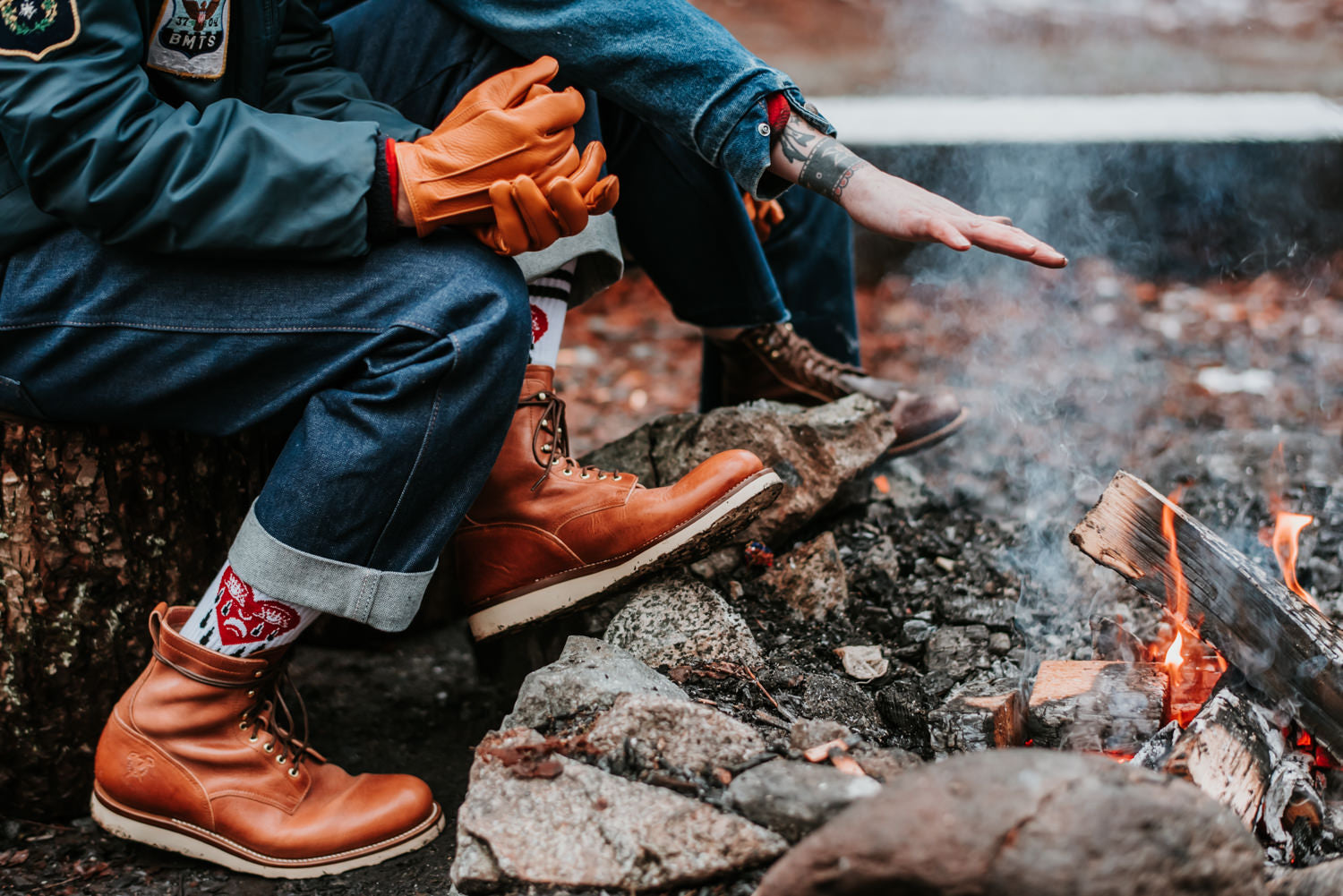 On Monday January 13, 2020 we officially launched our 13th limited release, The 1955 Roper Boot.
As per usual, we made all 25 PAIRS of this limited release available through PRESALE to those on our mailing list first, and within two hours... we'd completely SOLD OUT.
These are no longer available for sale, but if you'd like to be kept in the loop for all future releases (we introduce something new every two - three months) please sign up for our mailing list HERE. 
The "Roper" boot is an age old classic, with roots firmly planted in cowboy culture. But a specific design ("Lacers") made infamous by "Justin Boots" had cross over success when they refined the basic cowboy boot silhouette & incorporated laces - not diminishing the hardiness or high-quality craftsmanship that you'd expect in a cowboy boot, but offering more style and versatility to those looking for something a little less utilitarian and a little more fashion focused. There are many different takes on the Roper out there and this is ours. Hope you think it's a special as we do. 
1955 Roper Boot Features:
BESPOKE FIT. Every pair of 1955s will be custom bespoke fit for YOUR unique feet. We do not stock inventory. We do not build to a "standard". Each boot will be patterned specifically to accommodate not just the

 

length of your foot, but the width of your ball, waist, instep, short heel, and ankle. If you're local, we'll have you in shop for a consultation/ sizing, but if you're based abroad, not to worry - we'll be sending you a "Fit Kit" (ASAP) directly to your mailbox. Your 1955 will fit unlike any off-the-shelf/ ready to wear pair of shoes/ boots you've purchased in the past as we'll be making these for your feet and your feet alone.
COLORS.

The 1955 Roper Boot will be available in 

11 Colors

 

of cowhide, including 

Horween Leather Company

's: Brown Nut Dublin (Pictured), Natural Dublin (Pictured), Cobalt Blue Dublin, Black Chromexcel (Pictured), Dark Olive Chormexcel, Burgundy Chromexcel, Natural (Tan) Essex, Blood Red Essex, Bone Cavalier, and 

Charles F. Stead Tannery

's infamous: Black and Bright Toffee Repello Calf Suede.

HAND WELTED: Every pair of 1955s will be welted (J. Rendenbach) by hand - this is the most time intensive, yet durable and long lasting method of sole construction.  
SOLE/ HEEL PROFILES: As always we'll have a few sole and heel options for you to choose from, including those

 

Vibram

 

ones pictured. And of course, as always, our full-leather soles, midsoles, and heel stacks are all sourced from the world renowned

 

J. Rendenbach Leather Tannery.
FRINGED KILTIES: are removable, and simply laced in. Every pair of 1955s will include a matching set, which you can simply unlace if the aesthetic doesn't speak to you.
HAND-STITCHED QUARTERS:

 

This is a first for us, and not something we've seen elsewhere. If this additional design detail speaks to you, we'd be happy to incorporate into your '55s with either this natural tan (.8mm waxed polyester) contrast stitch, or we can select a color of thread to match your upper.

 

(+$150 CAD)
Embossed Artwork.

As you likely know, we always offer up the opportunity to further personalize your pair of boots by embossing an image of your choosing on the outside left heel (we logo the outside right). We have a fairly extensive portfolio of images (30+) to choose from - most designed in-house with a handful designed in collaboration with local artists including our good friend and often collaborator 

Matthew Houston

. If none of what we have available (off the shelf) speaks to you, and you'd like your pair embossed with a custom image (monogram/ logo/ etc.) we're of course happy to accommodate (

Starting at +$100 CAD for Design Time and Tooling

). 

Each pair will be individually numbered (1 – 25), come with a certificate of authenticity, and will be accompanied by some additional thank you gifts (to say thanks for being a part of this next chapter in our lil' story) including a Shoe Horn Keychain matched to your 1955s, a logo'd locally crafted canvas dust bag that doubles as a Tote Bag.
Please review our Returns/ Refunds/ Exchange, Shipping and Repairs/ Resole policies before making any purchase decisions - we want to ensure everyone is on the same page before moving forward.
Proudly handcrafted in East Vancouver, British Columbia, Canada
.
If you have any questions or concerns please
contact us
and we'll do our best to get back ASAP.