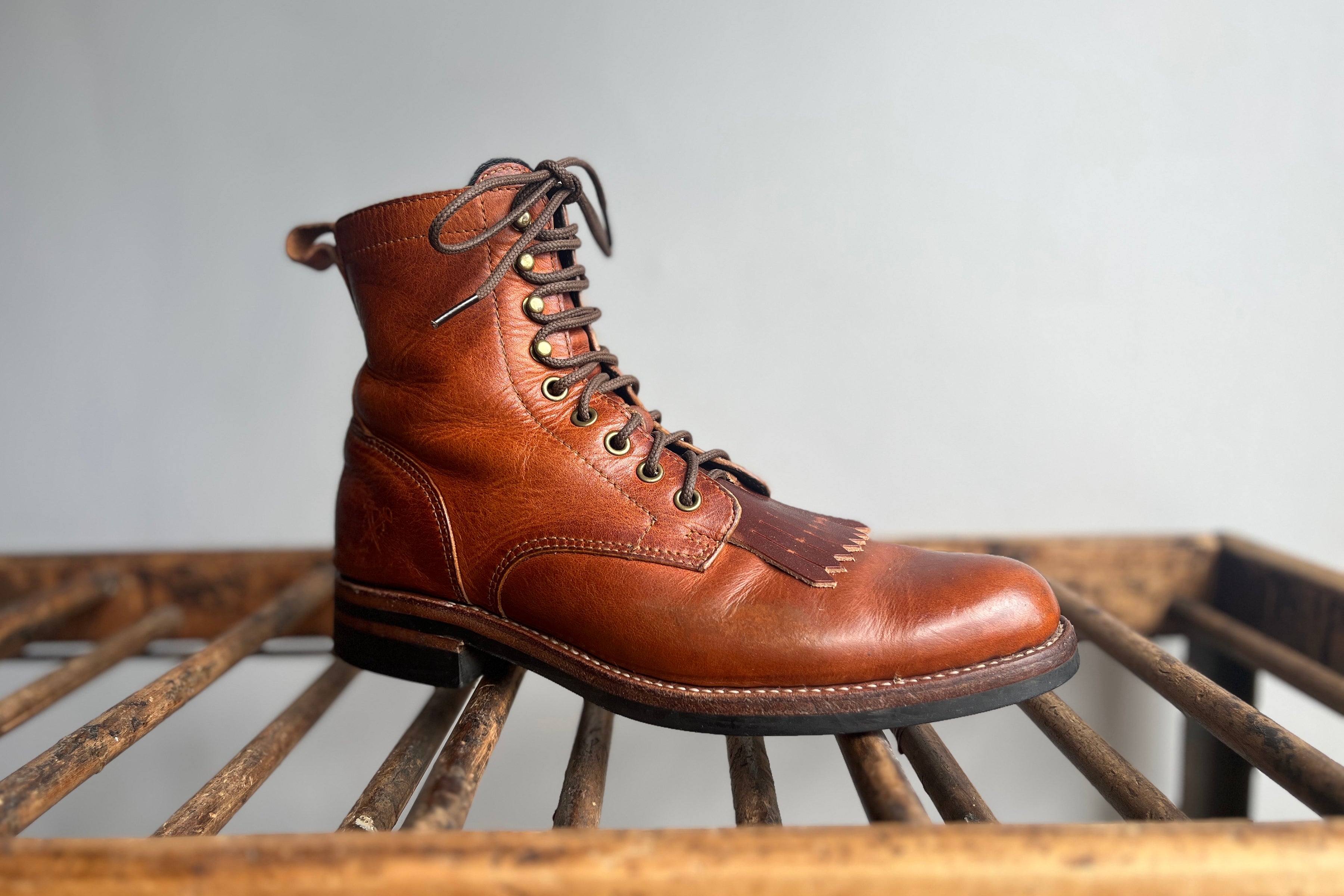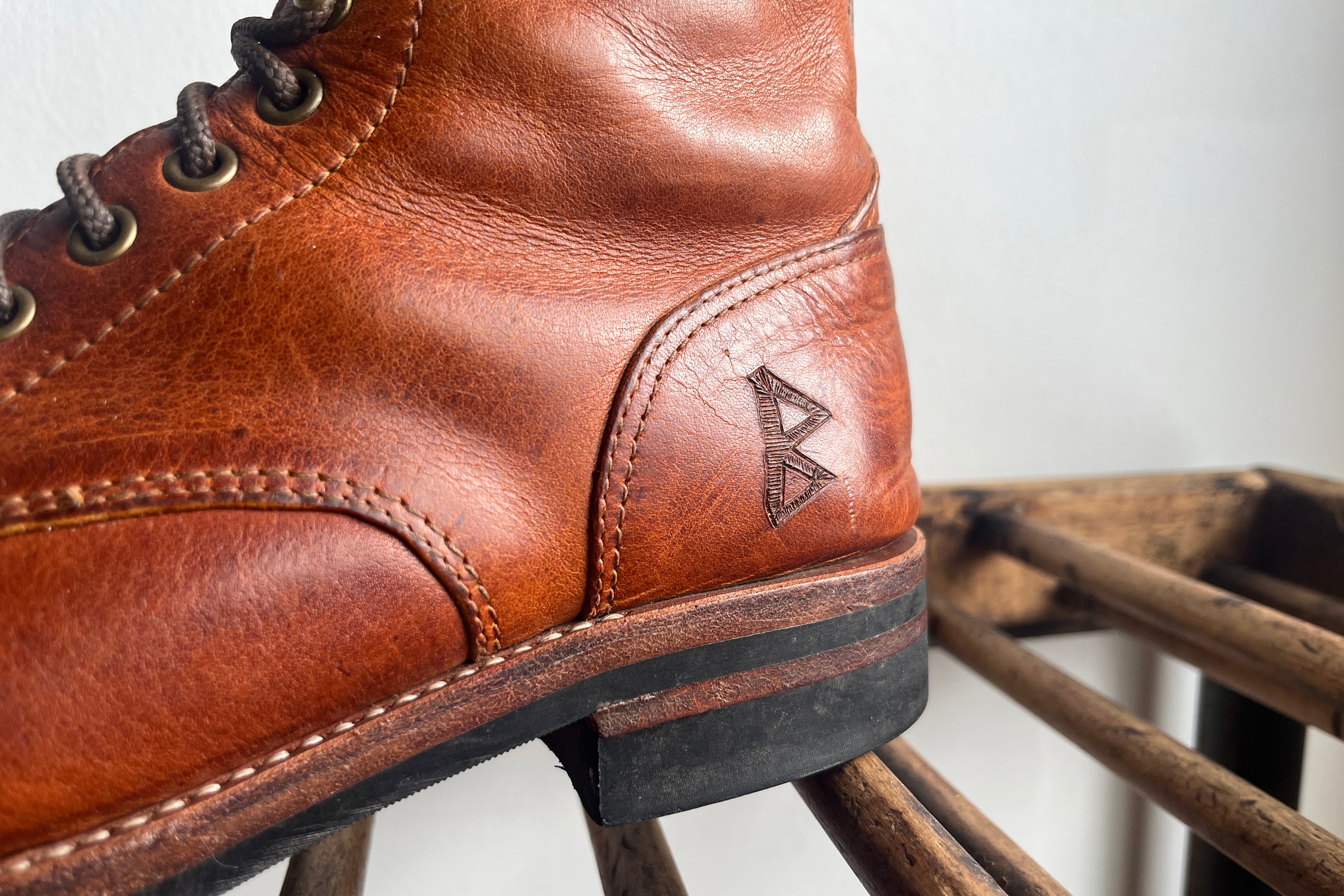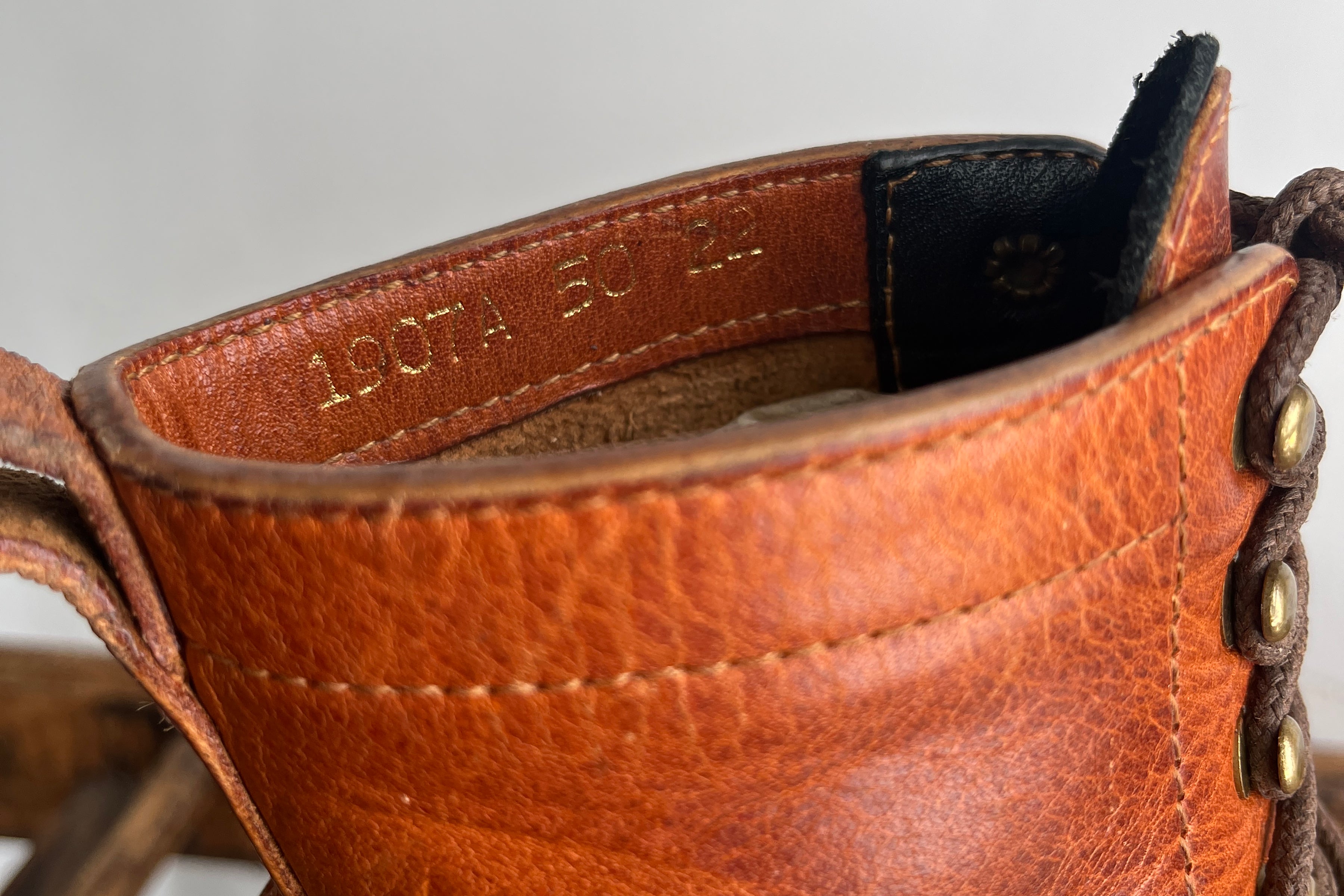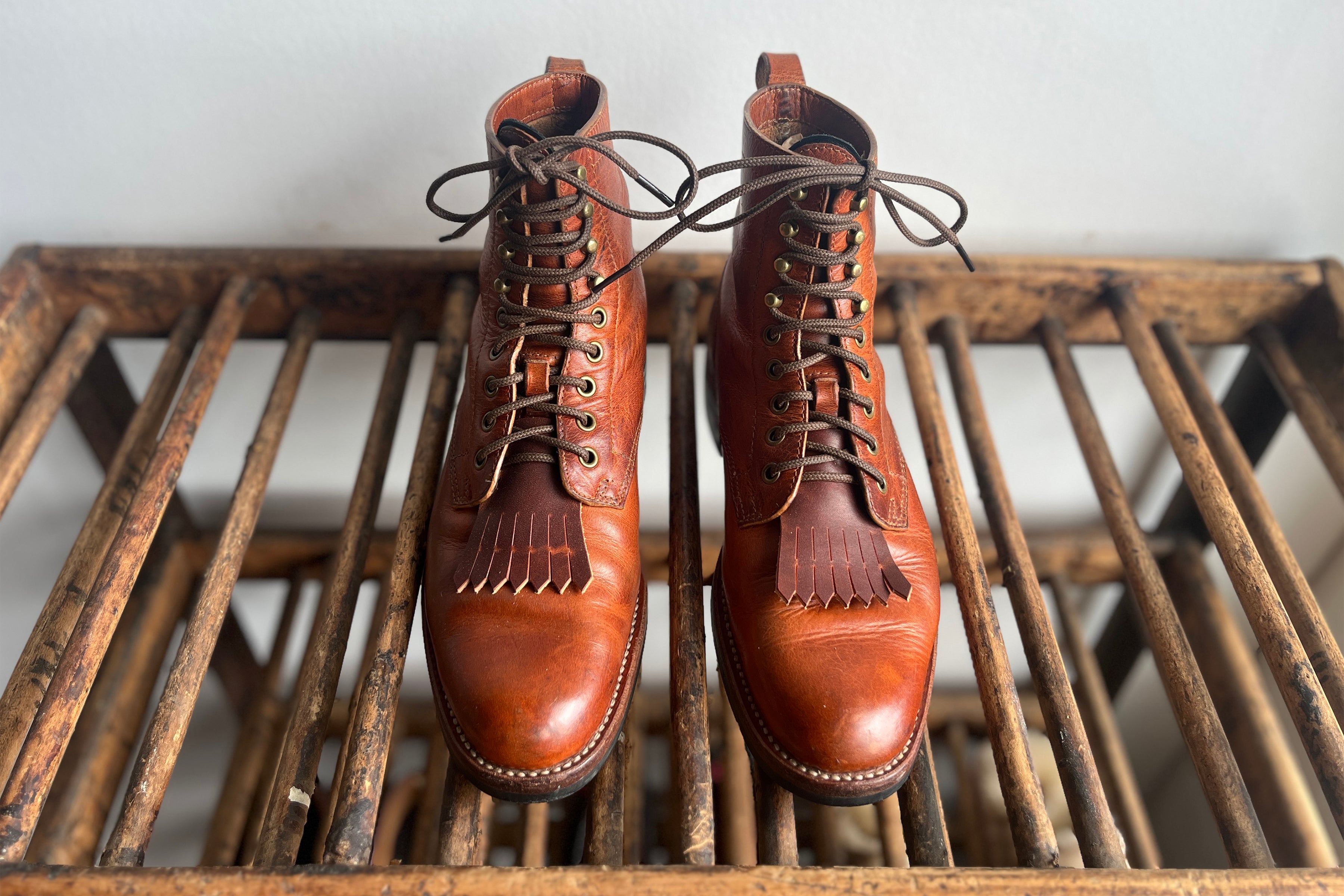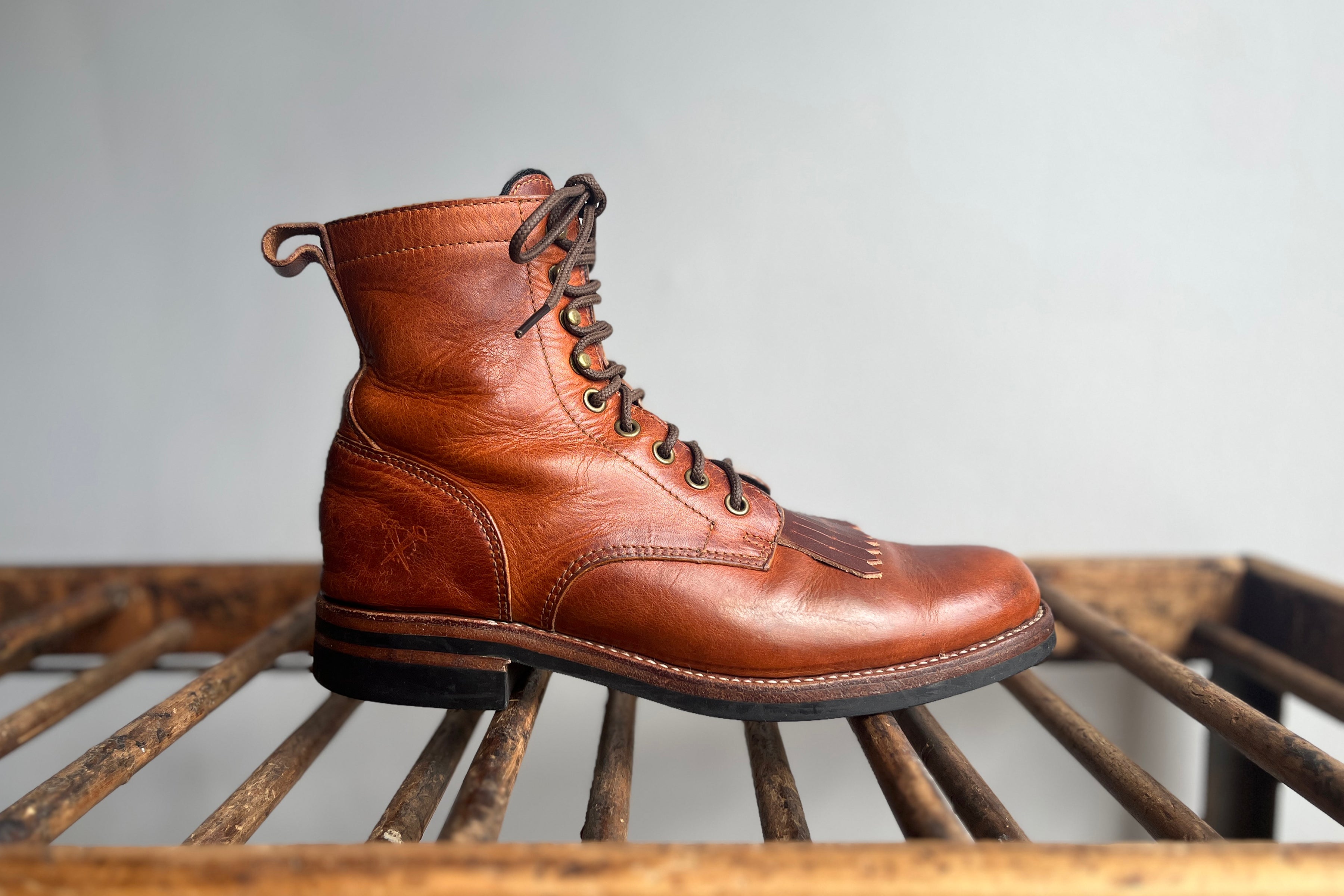 This is it. Officially... the FINAL PAIR of kicks to ever ship from this shop. 
We announced our one and only (50 pair) limited release of bespoke 1907 Alpine Derby Boots back in the fall of 2016. This was only our 2nd limited production run, but to this day... still one of my absolute fave silhouettes.
When I walk away from this space at the end of the month, I'm taking just two personal pairs with me - one of which... is my original pair of 1907A prototypes. Throughout this winddown, I've had to get comfortable with the process of letting go... of some precious things. But my pair of beat to sh*t Alpines... there's NO WAY they're not coming with. 
How these specific boots (1907A.50.22) found their way home to us is pretty random. Originally shipped to Seattle, WA on November 30, 2016. And as far as I know... they were well loved. A couple months back, someone reached out to let us know they'd bought these preloveds off Ebay, but.. they unfortunately didn't fit. I took one look at these relics - and didn't blink - I bought them back... same day. On receipt we freshened 'em up a lil', but this pair is so perfectly broken-in and patinaed... I'd argue they're better than when originally shipped. 
If this FINAL PAIR speak to you, I'll cover the cost to ship wherever in the world you hang your hat. 
1907A-50-22 Derby Boots:
9.5 US Men's C (Narrow). If you have concerns about sizing - I'm happy to refer to measurements you have with us on file, to ensure you're a perfect match. If you're new to us, please consult our Fit Form HERE. 
COLOR: 

 

Horween Leather Company's: 6 oz ENGLISH TAN Dublin cowhide.
SOLE/ HEEL: Vibram's rugged yet versatile 430 full-rubber full soles (BLACK) & matching heels. 
HAND-WELTED: These boots, like all our boots, were welted (J. Rendenbach welting) by hand. This is the most time intensive, yet durable and long lasting method of sole construction.  
KILTIES (fringed bits): Are simply laced in, and can be removed or added depending on whether they suit your fancy from one day to the next. The preloved pair that came home to us were a lil' beat-up, so I cut and installed newbies for you. 
HAND-ETCHED ARTWORK: The outside right heel/ counter is stamped with our logo, while we handetched the "B" on outside left. Shortly after we completed this production run, we transitioned to machine-embossing all our artwork, but back then - in late 2016. we were personalizing all pairs by hand.  
This pair was the 22nd (of 50) off the line, and uniquely gold foiled  "1907A.50.22". 
Each pair of shoes and boots that leaves this shop is accompanied by an in-house crafted logo'd dust bag and polishing cloth, and... for this pair... I set aside a matching TAN Panther Head Shoe Horn Keychain to include in your boot box.  
We build to last a literal lifetime - these boots are re-sole and re-heelable.  
Thanks for being a part of our story.
If you have any questions or concerns please
contact us
and we'll do our best to get back ASAP.